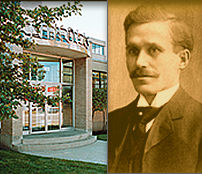 G.J. Nikolas & Co., Inc.
2800 Washington Blvd.
Bellwood, Illinois 60104

Phone: 708-544-0320
Fax: 708-544-9722

E-mail: info@finish1.com
G.J. Nikolas began his company with a simple vision: to manufacture the finest lacquers and coatings in the world. For more than a century, that vision has guided five generations of the Nikolas family. Today, building on our heritage, we still manufacture the finest coatings available anywhere. Recently, working under the constraints of stringent VOC regulations, G. J. Nikolas & Co., Inc. developed Eco-Borne™, an innovative EPA compliant series of coatings for brass and other non-ferrous metals. This is just one of many of our newest formulations.

Throughout our history, G. J. Nikolas & Co., Inc. has stayed true to the business concepts instilled in us by our founder:

Offer personalized service from start to finish

Maintain the highest quality standards

Market products tailored to the needs of the customer and the marketplace

Whether in the past, present or future, G. J. Nikolas & Co., Inc. remains dedicated to excellence in coatings and coatings technologies.