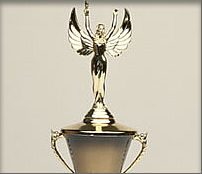 G.J. Nikolas & Co., Inc.
2800 Washington Blvd.
Bellwood, Illinois 60104

Phone: 708-544-0320
Fax: 708-544-9722

E-mail: info@finish1.com

Trophies, awards, plaques, medals, medallions, name plates and similar items look better and last longer when G.J.Nikolas Co. supplies the coatings. Whether you're looking at an Oscar or Olympic gold, chances are you are staring at a surface coated with one of our products. For sports, public service, business, education or other events, let your customers honor their stars with an award protected and enhanced by a G.J.Nikolas Co. coating.

Recommended Coatings For Name Plates/Trophies/Signag

Clear Lacquers

Colors

Conventional Coatings

Toners

#2105 Clear Silver Laquer

Duotones

Century Brass Lacquer RFU

Pigmented Bakes

#11565 OD Lacquer RFU

#9778 Exterior Uralac

#11470 Clear Epoxy RFU

Compliant Coating

#12595 4.3 Brass-Coat Bake RFU

#12666 2.3 Clear California Coat RFU

#12667 2.8 Clear Eco-Thane

Toners available.